The Electronic Drums aD5 uses proprietary sound source technology to deliver a whole new level of high-quality natural drum sounds never heard before in electronic drums! The core of this technology is a high-resolution stereo sound engine with minimal latency to leave nothing out of the player's sensory experience and fully supports trigger pads made by other electronic drum manufacturers.
The aDrums are electronic drums based on the concepts of Authentic, Acoustic, and Artware.
Our goals are to unify the setup, size, and feel in a way that will draw out a great-feeling performance from the player, to focus on the essence of the instrument, and to express the ultimate in acoustic drum sounds.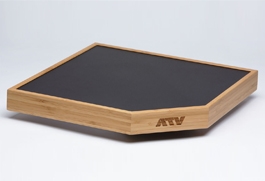 The aFrame enables performers to organically express their musicality just as if they were playing an acoustic instrument—the player controls the subtlety of the performance. ATV's proprietary "Adaptive Timbre Technology"* responds to the acoustic percussion playing techniques of striking, pressing, and friction. With nuance, the player can produce sounds that have tonal variation and effect controls not possible with existing digital percussion.