Converts HDMI to SDI. This converter can embed external sounds into SDI and extract audio signals sent in HDMI. Has internal frame buffer, supports frame rate conversion and external synchronization. Fully supports long-distance transmission which is great feature of SDI.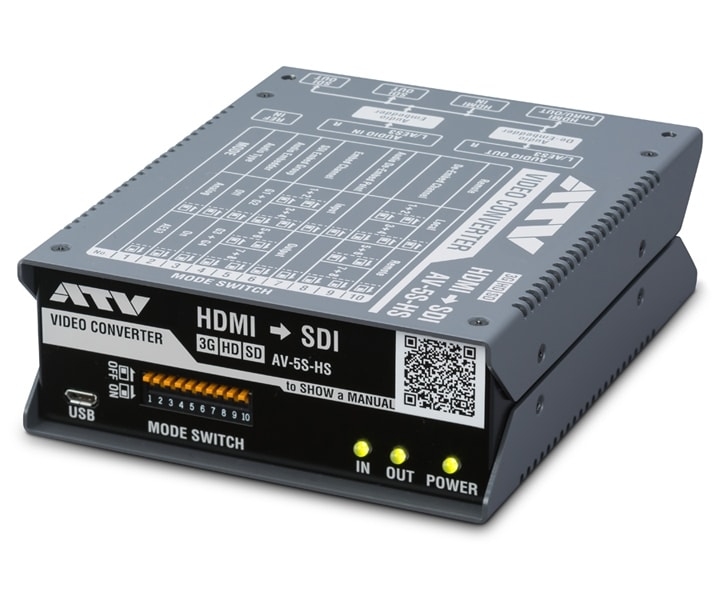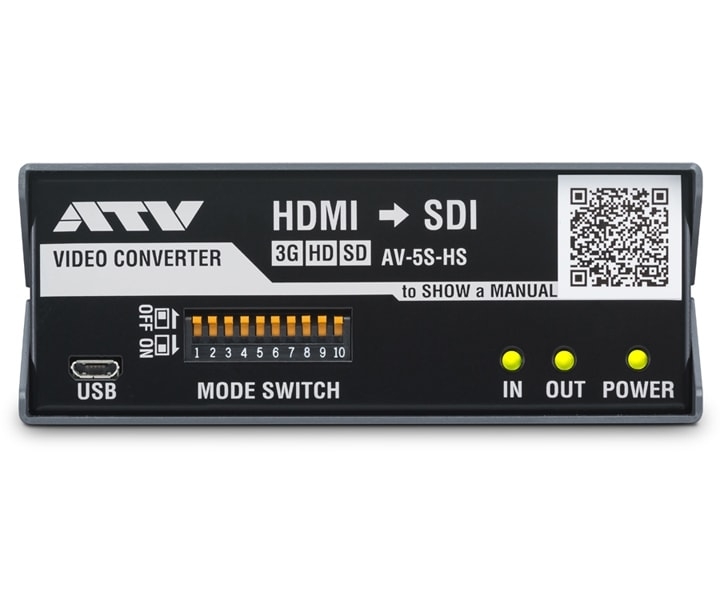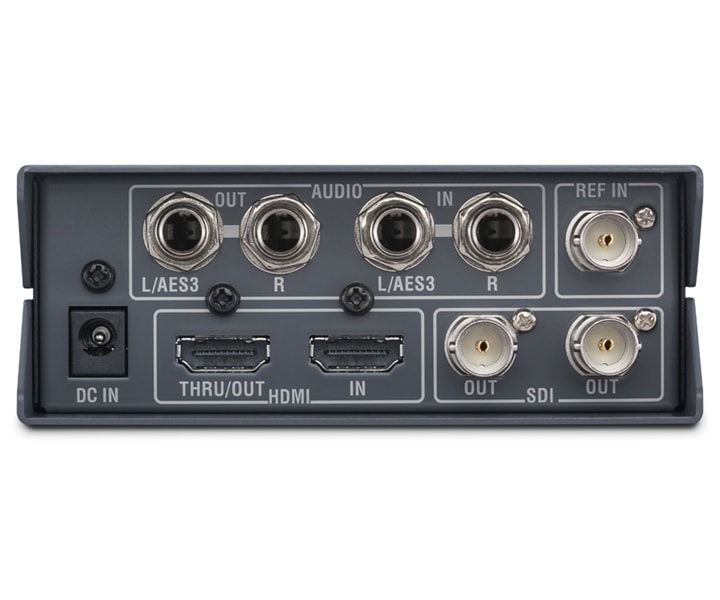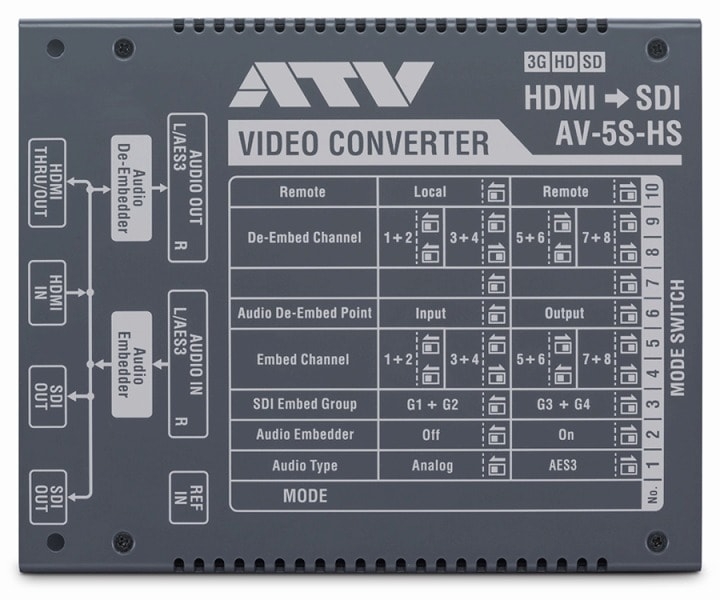 AV-5S-HS Features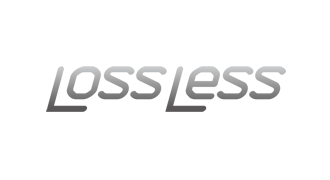 Achieves complete lossless conversion
The mission of the converter is to convert only the signal format and output a signal completely identical to the input source. The AV-5S-BD gives complete conversion with no clipping and that suppresses video signal deterioration to extreme limits, until a super black of 0 IRE or less and a super white of 100 IRE or greater is reached. The linearity of the color spaces is also of course maintained.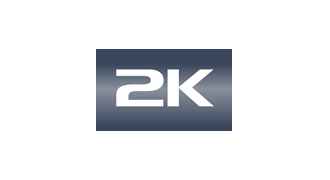 Auto support for 2K, 1080P, 1080i and various types of sources
Supports input and output rates of 480i, 720p, 1080i, 1080p, 2K (2048 x 1080). It also of course correctly recognizes 23.98p and 24p, 29.97p and 30p, 59.94p and 60p and can even convert P (Progressive) and PsF (Progressive segmented Frames).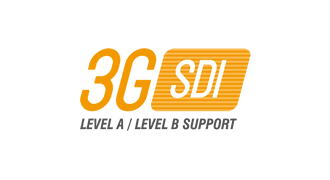 3G-SDI support for Level A & Level B
3G-SDI includes Level A often used in facility equipment such as for security and digital signage, and Level B used for broadcast equipment. The AV-5S series allows users to select both SDI output types. (Has no up/down conversion function for resolution.)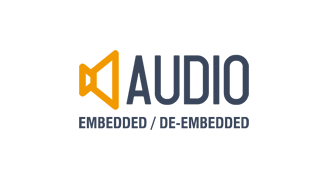 Mixing external audio into videos
The AV-5S series can embed external 2-channel analog or AES3 digital audio signals into video signals and output them. Conversely, it can also de-embed audio that was embedded into video signals, and extract it as 2-channel analog or AES3 digital voice signals. The voice group or channel No. can be designated for both embedding and de-embedding.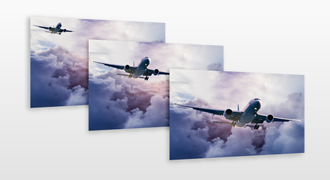 Frame buffer function delivers stable conversion
This series has an internal frame buffer function in addition to a low-delay direct conversion mode. In order to avoid potential signal delays, many converters usually don't include frame buffers. However the AV-5S series to the contrary, achieves frame rate conversion by way of an internal frame buffer. Further, even if the video signal is cutoff, output of a black or frozen final frame can be selected. Yet another function fades-out the audio in a minimum 1 frame and fades-in when restoring. On the other hand, a direct conversion mode to hold delay to a minimum is also included.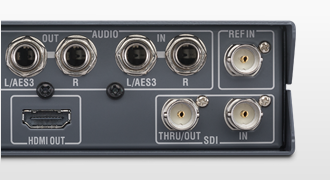 Supports external sync (REF IN)
The AV-5S series includes a reference input (REF IN) for GENLOCK for synchronizing to other sources. In cases where a digital single-lens reflex camera that can't input external sync is incorporated into the system, REF IN can also be used as a frame synchronizer as well as for format conversion.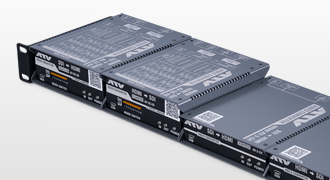 Rack-mountable (1/4U rack size)
The AV series is designed to fit within a 1/4U rack side width and 1U rack size height. A maximum of 4 units can be mounted within 1U rack size and the screw holes in the rear section can also be used to mount it onto a wall. The upper and lower cover overhangs of the rear panel can reduce impacts or unwanted contact with the connector section.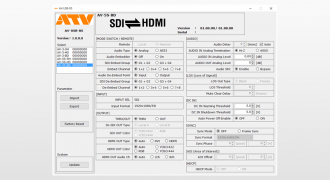 Software
Users can make more detailed parameter settings from the software by making a USB connection to this unit from a PC or Mac rather than just using the front panel dip switches. Parameters can be loaded and saved as files and can be instantly changed to match the usage site. Moreover, using a USB hub allows batch management of multiple AV series parameters. Control software for these tasks can be downloaded at no cost from the ATV official site.
Other features
All the ideal features you'd expect from "made-in-Japan" starting with superb durability
60P, 50P frame rate conversion
Mode switches on the units allow making quick settings at the actual site
Support information can be found from the QR code displayed on the product
AC adapter supporting multiple power supply voltage is standard equipment
The specifications and/or appearance of this unit are subject to change without prior notice.